Ticket (validity area)
One-way ticket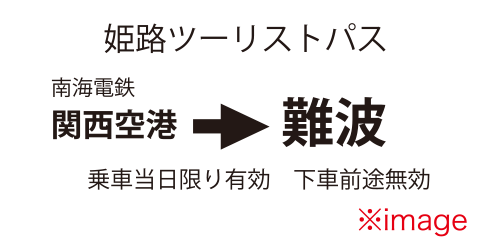 Nankai Electric Railway
Kansai-Airport Station → Namba Station (one way)
An additional fee is required for the reserved-seating express train.
An additional ¥520 (adult) is required for Regular seating from Kansai-Airport Station to Namba Station by Rapi:t Limited Express. (Except when the train is full or not operating.)
If you exit from a station prior to Namba, your ticket will be invalid for the remaining trip.
The ticket cannot be used for a trip from Namba Station to Kansai-Airport Station.
+
One-day pass
Hanshin Electric Railway and Sanyo Electric Railway
Osaka-Namba Station ~Amagasaki Station ~ Sanyo-Himeji and Sanyo-Aboshi Stations (unlimited rides one whole day ※1)
※1 The ticket gives you unlimited rides for a full day when the one-day pass is used on an automated ticket gate.
An additional fare is required when getting on/off between Osaka-Umeda and Kuise Stations on the Hanshin Main Line and Hanshin Mukogawa Line, and outside the area of validity (such as Kintetsu Railway, Hankyu Railway, and Kobe Railway)